Arbitrage Betting - benefits and disadvantages

Arbitrage Betting definition
Arbitrage Betting is the best and only way to make sure profit from betting on sports events. It is also called Sports Arbitrage or Sure bets. Arbitrage Betting means to bet on all possible outcomes and win no matter the result of the match. It finds the difference in the price (odds) between the competing bookmakers and calculates how much you have to bet on both to make instant profit.
Arbitrage Betting in details - how does it work?
It is very simple - for a short period of time (from few seconds to few minutes), two competing bookmakers offer different odds for current event. Odds so good, that no matter the outcome, you win every time. If you wonder how is this possible, the answer is in the odds differential. For unarmed eye is impossible to find this differential, but here is where the heavy cavalry in arbitrage betting softwares - OddStorm comes in to do the hard job. It scans the world of sports (bookmakers) every second and gather all the odds. Then it calculates every possible combination that will guarantee you profit if you bet on all outcomes, no matter the end of the match. This is called sports arbitrage or also famous as sure bet.
Surebet example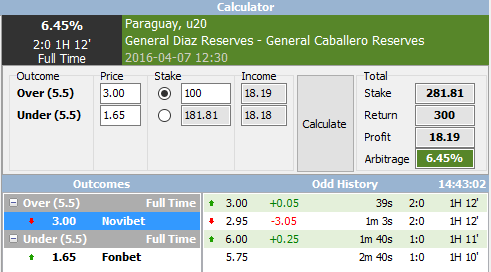 In the picture above you can see an example for sure bet, chosen randomly from the thousands of sure bets that appear every day and each second. In this case, you are guaranteed 6.45% (18.19 euro) profit if you bet 100 euro on Novibet (over 5.5 goals) and 181.81 euro on Fonbet (under 5.5 goals). So no matter the outcome you will win money. You can always change the amount and bet with higher stakes and get bigger profit if the automatically calculated one (with 100 euro stake) don't suit your needs. The choice is all yours! Just enter the desired amount and click on "Calculate". The sure bet calculator will do the rest for you.
How to navigate through the bookmakers easier?
The best and easy way to find the betting events is by using surebet navigation. At the moment you choose arbitrage from the surebet software it navigates you straight to the betting event page and all you have to do is enter the amount and click "bet". This will save you a lot of efforts and time and will make your arbing time much easier. You can read more about the sure bet navigation here.
Is arbitrage betting legal?
If online betting is allowed in your country, then there is nothing to worry about. Arbitrage betting is 100% legal and thousands of people are practising it like a profession. Its popularity is growing each day and more and more people are taking advantage of it.
What are the risks in arbitrage betting?
There are few risks that exist in arbitrage betting business, but don't worry - there is an easy way to avoid each one of them. Below are the possible risks / mistakes you can meet / make during your arbing career:
Bet cancelation / Obvious error
Limitation
Moving odds
Technical error
All of them are described in the OddStorm paid course here.
Summerize
Arbitrage Betting exists since 2006 and it's a great way to make pocket money or to turn it into main job for your monthly earnings. It all depends on you and how much time you can spend, how much money you are able to invest in bookmakers and most of all how dedicated and focus are you in achieving the success. In the beginning was hard to understand how arbitrage betting works, but now there is wonderful site Arbitrage Guides where everything for sports arbitrage betting is explained in details with many video tutorials and actual examples.
OddArbs Team wish you good luck and Happy Arbing!
---
Posted on 07 April 2016 by Iliyan Lishkov