Surebets Autosurf Navigation

Introduction
OddStorm keep growing with its customers needs and their last released feature, requested by arbitrage bettors is the unique Surebets Autosurf navigation. This is an autosurf feature which will make your arbing experience more enjoyable and easy to go. OddStorm software not only finds and delivers the surebets faster than all the arbitrage services, but now its customers can take advantage of their professionally made navigation which leads you directly to the betting event page with a single click. You just have to choose your surebet, click on it and it will lead you directly to the betting event page. Then all what's next is to enter the amount and click "bet". Currently the navigation supports Pinnacle, Bwin, SBO, WhilliamHill, PartyPokers, Bet365 for InPlay and Pinnacle, Bwin and SBO for PreMatch, but they will keep adding bookmakers. The navigation is untraceable by the bookmakers so you won't get limited because of it. It supports running on several Remote or Virtual machines and navigating different logged-in bookmakers accounts upon surebet click. This is wonderful opportunity to take maximum benefit of a single surebet.
How does it work
OddStorm software delivers surebets every 1-3 seconds for InPlay and 15 seconds for PreMatch. This makes them the fastest surebets delivery service, but how does the surebets autosurf navigation works? To find out if it is also fast enough for my needs, I have made a test and will share my experience with you. On first place everything starts by running the navigation of course (navigation->run). You will have two windows opened and the left side window is your navigation panel and the right side window is the browser (Chrome) which the navigation will use. It is important not to close this window, because the navigation is merged with it and this is the only way to work. If you don't have Chrome installed you will need to install it. Then from the navigation panel you can open the bookmakers in a different tabs on a different machines and login to the selected bookmakers. Then all what's left is to start single clicking on the surebet from their Desktop App and the betting event page for the selected arbitrage will instantly open on your browser tabs. It is really fast process – less than 1 second to navigate you. Now just have to enter the amount and click "bet". The way how easy to use and fast is this navigation was really impressive to me and I definitely recommend you to give it a try. For this purpose you will need to be subscribed to VIP Plus. The subscription price worth it for the quality and speed you will get. You can place surebets every few seconds so imagine how much money you can win.
For those who need extra help to learn how to use the surebets autosurf navigation, OddStorm have prepared a training program Sports Arbitrage Betting Guides where everything for sports arbitrage betting and how to use OddStorm is explained in details with many video tutorials and actual examples. Below you can take a look of one free video tutorial how OddStorm surebet navigation works.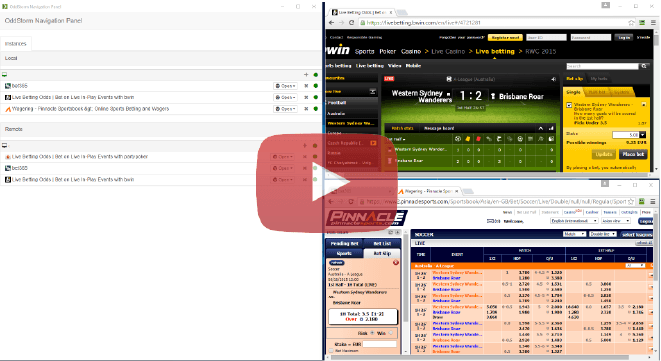 You can find more here
Summary
OddStorm is a great choice for surebet newbies because of it's navigation. It will also attract a good amount of Pro Arbers, because of the speed and quality of basically everything it includes! Congratulations on improvements and in the name of community we are awaiting more!
---
Posted on 15 February 2016 by Iliyan Lishkov